The Leading HVAC Contractor in Toronto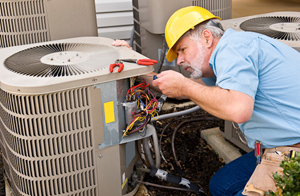 There are many companies that offer HVAC services, but none of them will provide you with the quality customer service and excellent products like Cozy Comfort Plus. Here at Cozy Comfort Plus we are proud to tell all of our consumers and potential customers that our company the leading HVAC contractor in all of Toronto. This title was difficult to achieve, but we earned it through many years of fantastic customer service, professionalism and a wide selection of only the best quality products.
If you are looking for a great HVAC contractor in Toronto you can search for different contractors near you, but you will find that we have the most experience and the best customer service you can find in Toronto and the surrounding areas. When it comes to HVAC services you want the job done professionally from the first time. All of our HVAC products are made by the leading brands in the business to ensure that each and every one of our customers is happy and satisfied with the products that they have chosen.
All of our employees are trained professionals ready and willing to help with all of your HVAC needs. First our trained professionals will help you find the right HVAC products that best suit your needs. Again this will help you love and enjoy the product that you have chosen. It is our goal to help you find the most efficient and reliable HVAC products to encourage you to be more eco-friendly. Having a more efficient and reliable heating or cooling system will also help you save on the maintenance of the products and help lower your utility bills.
Once you have purchased the product(s) that you need our professionals will be able to help you calculate the cost of the installation as well as answer any questions you might have. After all of the arrangements have been made our HVAC professionals will begin work. The appointments for installation are normally quick and efficient because the contractors are knowledgeable about the HVAC products and how they are installed.
By choosing Cozy Comfort Plus as the HVAC contractor for your Toronto property, you are putting the care of your estate into reliable and experienced hands. Not only will we meet but also exceed your expectations. So call us today or visit our website and put your HVAC system into great hands.