Save up to $1,350 on Lennox System and Thermostat
Purchase a new Lennox system and thermostat to qualify for loads of savings! Different products are eligible for different rebates. Please read the rebate information closely before making the best choice for your home or office.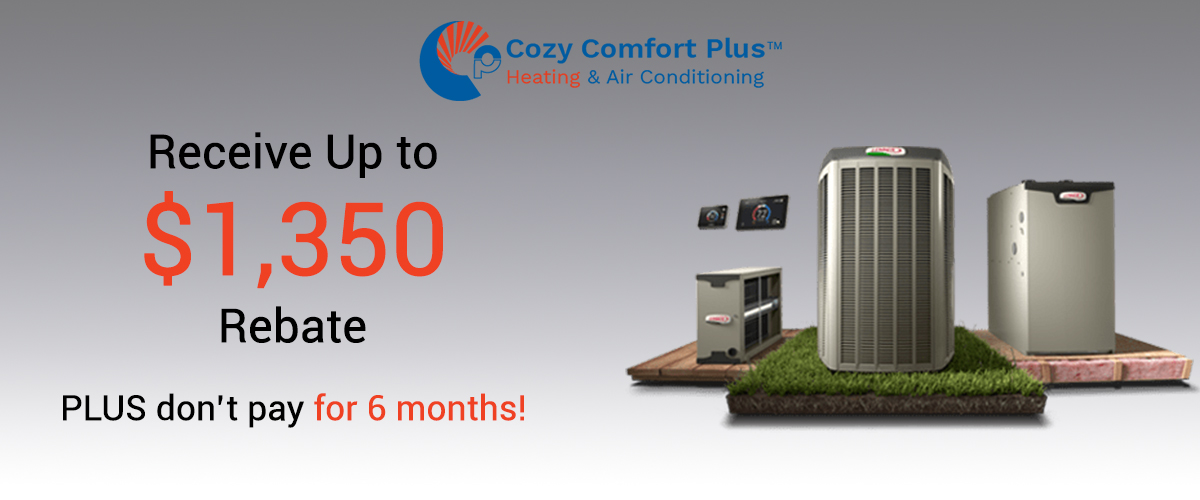 Sell Period: September 7, 2020 – November 27, 2020
Install By: December 4, 2020
Submit Claims by: December 18, 2020

Consumer Rebate Offers Fall 2020 Receive a Lennox Rebate Up to $1,350
*SYSTEM ELIGIBILITY:
All system rebate offers must include a qualifying thermostat.
System add-ons do not qualify for an individual rebate and cannot be combined with individual unit offers.
For full-system eligibility requirements, please see promotional guidelines

Lennox Fall Rebate
You can save up to $1,350 on Lennox products with their fabulous fall rebate! Read the information in the rebate carefully because different Lennox products are eligible for different amounts of cash back.
Promotion Dates:
This promotional offer applies to:
Qualifying product(s) purchased by a participating Lennox dealer between September 7, 2020, and November 27, 2020, and installed by December 4, 2020.
Rebate claims submitted by December 4, 2020.
Dealer Eligibility:
To participate in this offer, dealers must have purchased a 2020 CAP Package. No portion of this promotional offer will be charged by the dealer to the homeowner.
Homeowner Eligibility:
Purchases of the qualifying product(s) must be made by the individual receiving the rebate.
Exclusions:
• This promotional offer applies to residential applications only. Commercial installations, homebuilder or contractor purchases for new construction, homeowner upgrades through homebuilder or contractor, or installations in multi-family dwellings, or any dwelling other than a single-family residence do not qualify.
• This promotional offer is not valid for purchases made through retail partners, including, but not limited to, Costco Wholesale, The Home Depot, or Lowe's Home Improvement.
• This promotional offer cannot be combined with any other Lennox consumer promotional offer.
Product Availability:
Only equipment and systems listed on promotion are eligible for this promotional offer and are subject to availability. New products are subject to availability in certain markets. Multiple qualifying products may be sold within an individual family or household.
Acceptable Product Substitutes:
The following product substitutes are eligible for the Fall 2020 Consumer Promotion. Products are subject to availability.
SLP99V substitute: SLP98V
CBA38MV substitutes: CBX40UH and CBX32MV
EL16XC1 substitute: XC14
CBA27UH substitute: CBX27UH
System Eligibility Requirements:
All Lennox system rebates require a qualifying indoor unit, outdoor
unit, and either a system add-on or a qualifying thermostat.
Exception: System add-ons are eligible for rebate when purchased
with a packaged unit.
System add-on options: iComfort® S30, iComfort® E30, iComfort®
M30, PureAir™S, PureAir™, iHarmony®, HRV, and ERV.
System add-on options do not qualify for an individual rebate and
cannot be combined with individual unit offers.
Qualifying thermostats: iComfort® S30, iComfort® E30,
iComfort® M30, iComfort® Wi-Fi, CS7500, CS5500, Honeywell
Programmable, Nest, Emerson Programmable, and Ecobee.
Third-party thermostats must be purchased through Lennox.
Thermostat serial numbers are required for claim entry.
Lennox Visa Prepaid Card:
After the rebate claim is audited, approved, and paid:
Lennox will bill the dealer its portion of the rebate based on the
dealer's CAP package level.
Rebates will be issued in the form of a Visa Prepaid card sent
directly to the purchasing homeowner.
Cards are valid for 12 months from the date of issue.
Please allow two to four weeks for Visa prepaid card processing
after claim has been properly submitted, processed, and approved.
See card FAQs for more details.
Claim Submission:
Claims must be submitted online by the claim submission date.
Failure to do so will result in the claim being declined and
subject to the submitting dealer's expense.
Homeowners are responsible for rebate claim entry; dealers are
responsible for financing claim entry.
Claims paid on returned products may be subject to reversal.
Incomplete, illegible, early, or late submissions will be declined.
Lennox is not responsible for lost or missing paperwork.
Lennox reserves the right to request additional information to
validate a claim and to inspect any installation that is a part of
this promotional offer.
Claim review will not begin until Lennox receives all proper
documentation.
Rebate Claims:
Rebate claims must be entered online at lennoxconsumerrebates.ca
Financing Claims:
No claim entry is needed for financing claims. The dealer will be funded the promotional rate up front from SNAP Home Finance. All loans must be funded by December 11, 2020.
Promotion Claim Documentation:
A homeowner invoice is required for each claim submission and should be attached online at the time the claim is entered
Invoice to Homeowner:
The following must be included on the invoice in order for the claim to be processed:
Dealer name and address
Invoice number
Homeowner name and installation address
All model numbers, including those for thermostats
Serial numbers of the products being claimed (equipment sticker
is acceptable)
Date of installation (do not use dealer invoice date or paid date if it is not the same as the installation date)
Completing the Claim:
Please fill out the claim(s) in entirety. Failure to do so could delay rebate or financing credit processing.
If there is an error with the claim and additional information is required, 360Insights will send an email to the homeowner notifying them of the error (homeowner email is required for claim status notification).
Claim Status:
A homeowner can check their claim status on lennoxconsumerrebates.ca. If a claim needs further follow-up, the email address provided upon claim entry will receive a weekly email until the information is provided or until the promotion's claim deadline.
We're always here to suggest affordable, environmentally responsible options for a warm, inviting environment. Visit our showroom or call us at (416) 780-9760 today! 
Fill out the form below for more details