The Top 4 Series of Tankless Water Heaters Available for 2019
Installing tankless water heaters has been very popular in Canada. Known as on-demand water heaters, these highly practical heating units come in a variety of sizes, styles and designs with many different features to meet the needs of different households and even commercial spaces.
If you want an endless supply of instant hot water in your home or office, but worry about the gas or electricity bill, you should definitely consider these tankless water heaters to save money.
Here are the top four brands and series to choose from if you are looking for the best tankless water heaters for 2019.
1. Rinnai – RUR Models
A Japanese multinational company, Rinnai ranks as the #1 seller of tankless water heaters in Canada and the US. This company offers a wide range of water heaters, and the RUR models are, in our professional opinion, their best option. Our clients tell us that these models are quiet, easy to install and save on water consumption in comparison to traditional water heating options.
The Rinnai RUR models feature a seamless service enabled by Wi-Fi monitoring and voice activation with Amazon Alexa that enables instant hot water delivery right at your fingertips. You can depend on an endless supply of hot water for showering, bathing, washing dishes and much more. For these reasons, we think Rinnai's RUR models are some of the best tankless water heaters for 2019.
This series of tankless water heaters allows between two to six fixtures per heater. Depending on the model, many are suitable for indoor and outdoor installation. RUR models are powered by propane or natural gas, and are easy to maintain. With an energy efficiency factor of 0.93, they are guaranteed to help you save a lot of money!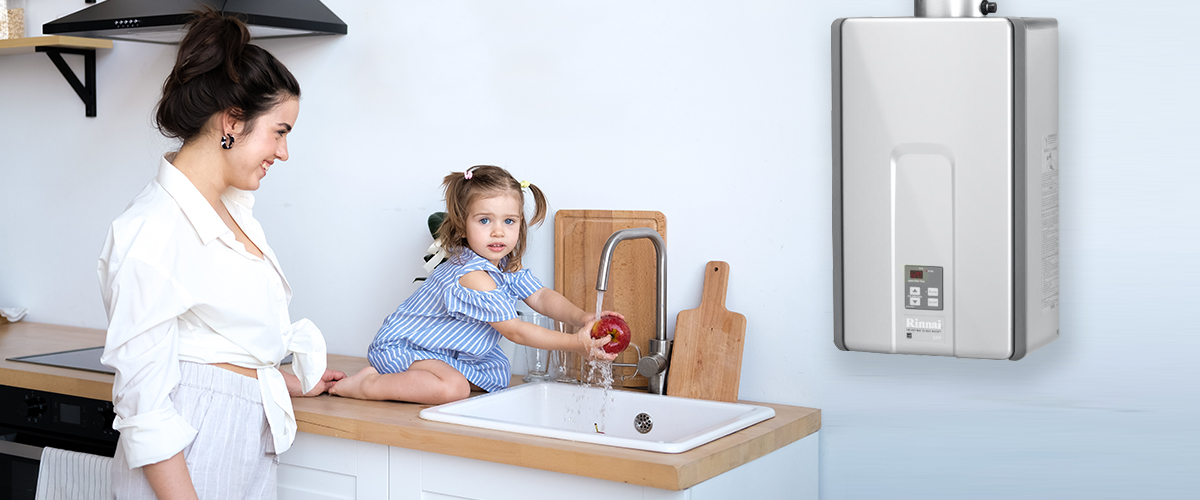 2. Navien NPE-A Series
Navien is committed to providing premium quality water heaters and boilers for residential and commercial purposes. Their recent breakthrough NPE-A series is tangible proof of the company's dedication to making it easy to go tankless.
These wall-hung water heating units are renowned for their exclusive ComfortFlow Technology that provides a steady stream of warm water for as long as you need it.
The following features make NPE-A models an excellent option if you're looking for tankless water heaters to save money:
Innovative options (the first and only system that incorporates a built-in insulated buffer tank and recirculation pump that provides consistent water flow and temperature)
Stainless steel heat exchangers (greater durability decreases maintenance costs)
Gas pipe coupling up to 24 feet (reduces installation costs)
3. Bosch – Greentherm 9000 Series
This award-winning series is an excellent choice if you are looking for a cost effective, energy efficient hot water solution.With a sleek and slender cabinet-style assembly, the Greentherm 9000 models offer reliable, water heaters that are easy to install and use; they were specifically designed to ensure compatibility with small and large houses, condos, as well as commercial applications. All of the models in this series from Bosch have an energy efficiency factor of 0.96.
4. Noritz – Residential
Noritz is a leading manufacturer of propane and gas-powered tankless water heaters for domestic as well as industrial applications. Their NRC111, NR98, NR83 and NRC71 series are four of the top options to consider if you want a compact and functional water heater without large operating costs. Several residential tankless water heaters from Noritz offer the following features:
Temperature stability
Low carbon footprint
Energy efficiency of 85% to 95% (depending on the series)
Electronic ignition to save fuel and operating costs
Get in touch with us today to install or learn more about these top tankless water heaters to save money.