Hot days are ahead! Order soon to avoid shortages

Keep an eye out for savings on the promotion of these ductless systems and central air/heat pumps:
Ductless Split Systems
For homes without ductwork (window air conditioners or no air conditioning), duct-free splits (also known as mini-splits) provide an option that is quiet, efficient, and safe.
When it comes to Ductless Split Systems, we are proud to provide the industry's finest brands, as we sell home appliances and products of only the highest quality to ensure that the products you purchase will last a long time and require minimal maintenance. On our website, you will be able to examine a superb assortment of split air conditioners in further detail.

Central Air/Heat Pumps
Air Source Heat Pumps
In the summer, a heat pump cools your home's air similarly to an air conditioner, while in the winter, it absorbs heat from the outside air and releases it inside. When purchasing a heat pump, seek high Seasonal Energy Efficiency Ratios (SEER), which evaluates the machine's cooling efficiency) and high Heating Seasonal Performance Factors (HSPF), which measures the machine's heating efficiency).
As proud Toronto dealers of LENNOX and CARRIER Heat Pumps, we are pleased to provide their entire array of premium products.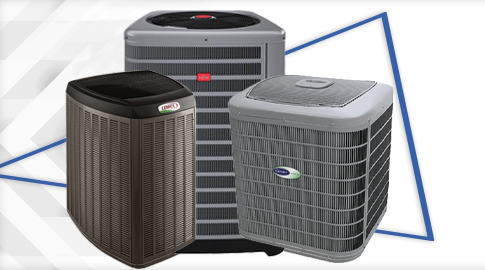 When it comes to HVAC design, we are the experts:
Why not convert your old wood fireplaces to gas? Cozy Comfort is offering a $400 instant rebate on the redesign of old fireplaces with any stone or wood surround mantels. Call to book an appointment.

Our featured rebates are brought to you by:
CARRIER

Turn to the experts
You can receive rebates on a complete package installation:
Up to $2,600 from Enbridge Home Energy Conservation*
Up $1,765 by Carrier*
*Full rebate is for the purchase and installation of a complete package. The amount includes rebates from Carrier + Independent electricity system operator + Home Energy Conservation Program. Valid from March 7, 2022 through June 10, 2022.
Get up to $5,600 on heat pumps and tankless from Canada Greener Homes Grant**
**Expires June 14, 2022
We offer free in-home estimates:
When it comes to heating and cooling, we do it all. Call our sales team to get a quote for your fireplace, air conditioner, and HVAC system today!
Visit our website and start saving.
Fill out the form below for more details