Ontario Government Energy Rebates (Energy Savings Rebate Program) (Enbridge Rebate)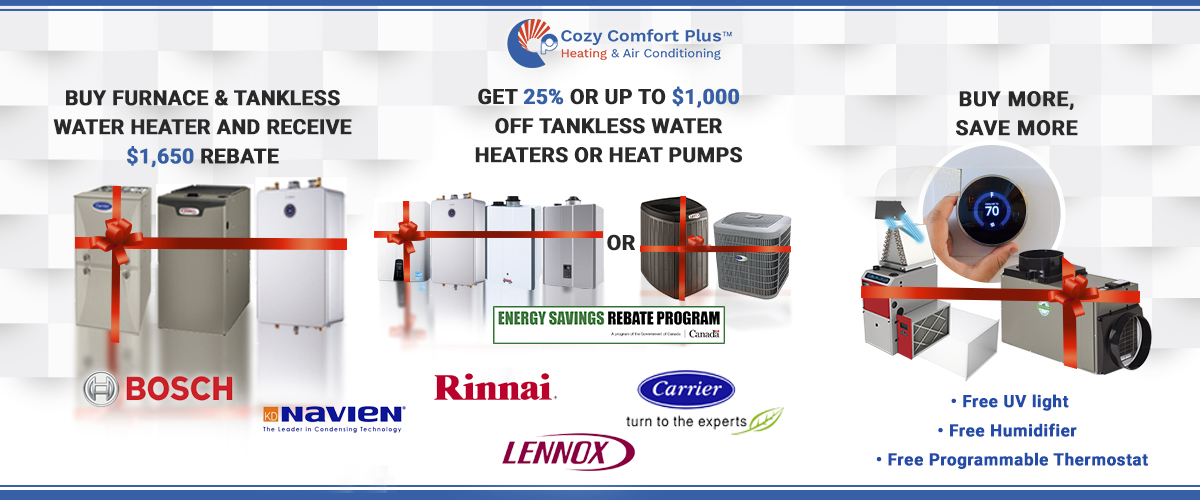 Love is in the air…along with flurries, so there is no better time to wrap up some great deals! We have not 1, not 2, but 3 promotions this month to help you save $2,650, and unwrap a free gift. Call an HVAC Expert (416) 780-9760.
Promotion #1 – 25% or up to $1,000 Off Your Tankless Water Heater or Heat Pump
Tankless Water Heaters or Heat Pumps Qualify for the Energy Savings Rebate Program
As an eligible retailer of the Energy Savings Rebate Program, this means we get to pass on big gifts (in the form of warm, wonderful savings) to you.
Come and see our extensive collection of tankless water heaters (Bosch, Navien and Rinnai) or heat pumps included in this fantastic promotion! And, here's the good news, the savings get even better!

Promotion # 2 – Save $1,650 on Furnaces & Tankless Water Heaters
Present-ing You With a $1,650 Enbridge Furnace & Tankless Water Heater Rebate
It's hard not to be a little giddy about this Enbridge rebate! It really will feel like you're opening a big present when you receive the gift of $1,650 off your new furnace and tankless water heater after you've already saved so much!
Note: the tankless water heater or heat pump purchased must qualify for the Energy Savings Rebate Program to be eligible for the Enbridge rebate.

Promotion #3 – Get a Free Gift from Cozy When You Buy Products Eligible for Both Rebates
Cozy's Gift to You!
The deals are even sweeter (just like all the treats you'll enjoy) when you add them together. With a chance to save $2,650, it's no wonder you'll want to keep the warm and fuzzy vibes coming!
Customers who purchase a tankless water heater or a heat pump and a furnace eligible for $2,650 in rebates will get to choose 1 of 3 gifts (a UV light, humidifier or a programmable thermostat) directly from us. It's the Cozy team's way of thanking you, and making this time of year a little warmer!

Don't Get Left Out in the Cold!
Our customers' hearts are sure to flutter when they find out about the amazing promotions and gifts we're offering this month. Come to our showroom, or call a heating and cooling expert at (416) 780-9760 with questions.
We're happy to make recommendations to make your home more cost and energy efficient!