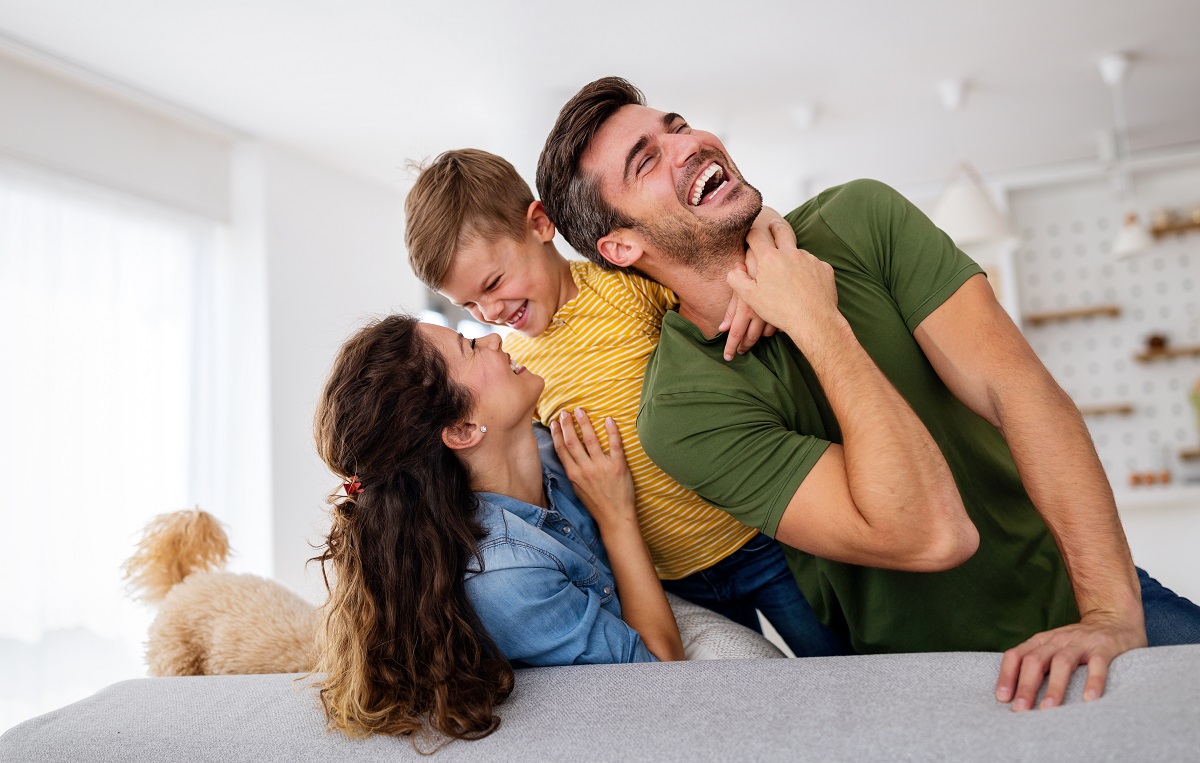 Top High-Efficiency Furnaces for 2023
What Is the Highest Efficiency Furnace?
The top high-efficiency gas furnaces are:
Lennox SLP98V Gas Furnace
Lennox ML296V Gas Furnace
Carrier Infinity 98 (59MN7) Gas Furnace
Carrier Performance 96 (59TP6) Gas Furnace
Why Is a High-Efficiency Furnace a Good Choice?
Choosing a high-efficiency furnace comes with many benefits. It will save you money on energy costs as it's much more efficient than standard furnaces. It also produces fewer emissions that can damage the environment, allowing you to do your part for sustainability.
Furthermore, a high-efficiency furnace that employs a variable-speed blower has an all-around better efficiency than any traditional furnace and runs quieter, providing greater comfort in your home all year long.
It also requires less maintenance and upkeep due to its advanced technologies, saving you time and money on repairs or replacements.
High-efficiency furnaces are a great choice for those looking to reduce their energy bill while still keeping their homes comfortable and reliable.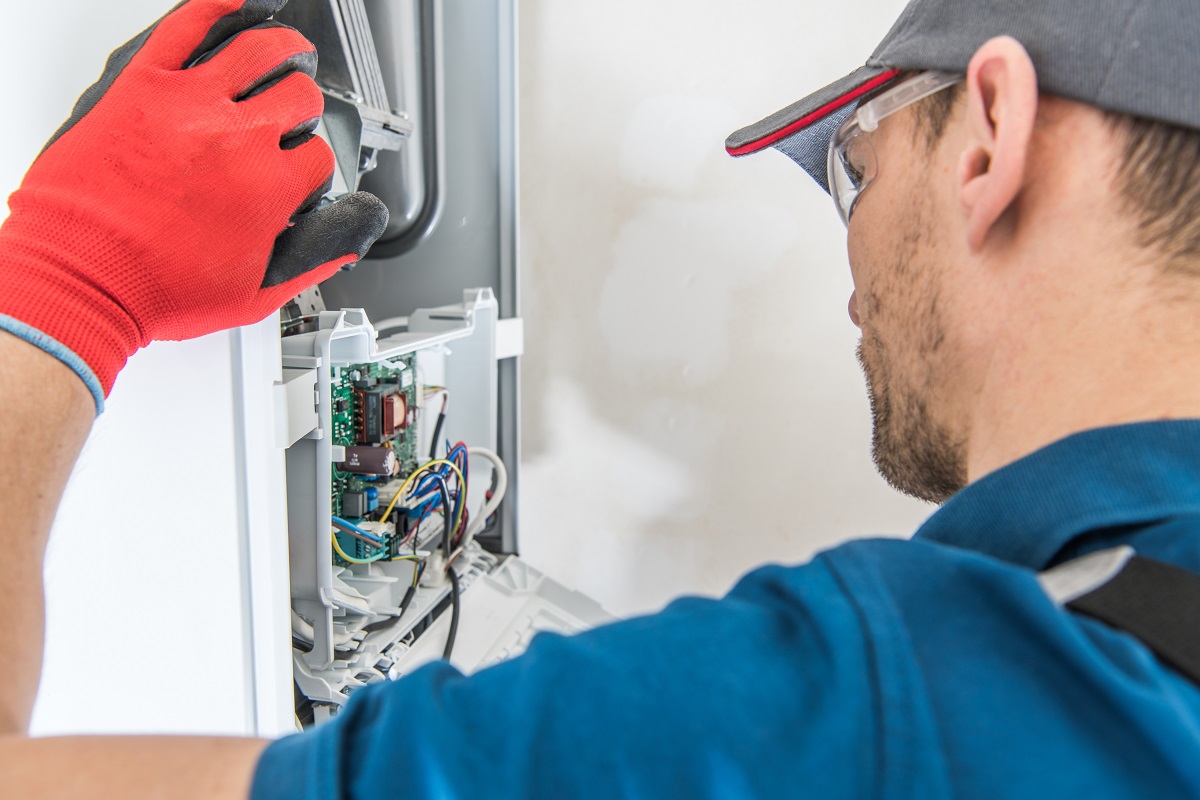 How Variable Heating Compares With Single-Stage and Two-Stage Heating
Furnaces come in many varieties, each suited to different heating needs. Variable-heating furnaces provide the ultimate in control and efficiency, allowing you to adjust your temperature in a wide range of ways. It's also important to consider installation costs when comparing variable heating with single-stage or two-stage models.
Ultimately, it comes down to understanding the costs and conveniences associated with each type of furnace before deciding which one is right for you.
Single-stage and two-stage heating are both viable solutions to manage the temperature regulation of your home. Single-stage involves controlling just one energy source at any given time, which automatically turns it off once a set temperature is reached. Two-stage allows for the control of two separate energy sources, so it can regulate by switching off one source when the other takes over.
The main benefit of two-stage heating is that it helps retain more heat in your home due to its multi-level approach. It also offers added protection in severe weather, as an additional level of protection through an alternate heat source kicks in if temperatures drop suddenly.
Both single and two stage heating offer good utility savings potential, with two stage having the potential to save up to 33% on people's bills, depending on climate conditions.
Variable heating , on the other hand, offers the most control over your home's temperature and the greatest energy savings. It allows you to adjust your thermostat settings in a wide range of ways, giving you maximum control over your home's comfort level.
It's All About Climate Control
A high-efficiency furnace is the best way to save money on heating bills. It maintains a more stable temperature, eliminating heat spikes and dips. It increases comfort by providing uniform heat throughout your home, making it easier to maintain the desired temperature. The result is a much more comfortable space with reduced noise.
A variable-speed blower prevents cold air from being released in large bursts at the beginning and end of a cycle. Plus, it significantly reduces energy consumption, meaning less wasted energy and a smaller carbon footprint.
Finally, with regular maintenance and repairs, a high-efficiency furnace will last longer than traditional systems, saving you money in the long run. As a bonus, the blower will create better dehumidification when the furnace is used as the air handler for central air conditioning.
Investing in a high-efficiency furnace means better temperatures, fewer energy bills, and lower emissions, all of which lead to a healthier environment and more money in your pocket.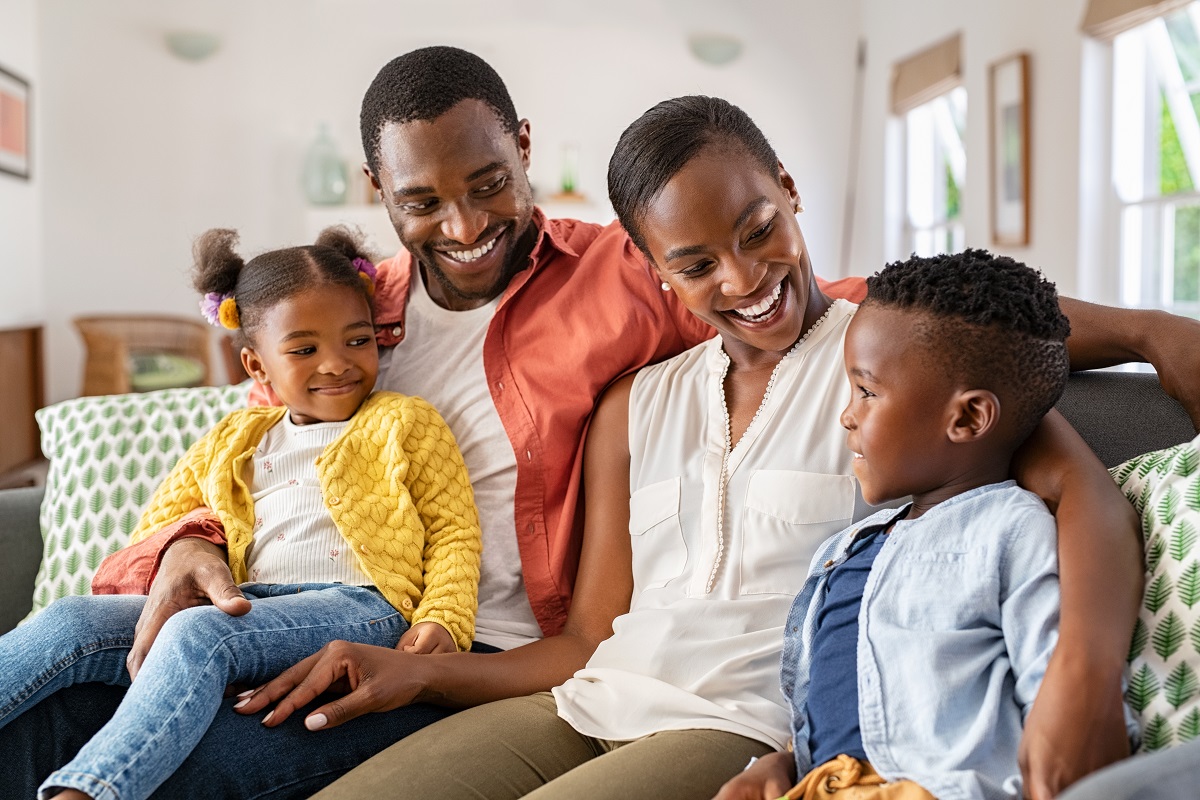 High-Efficiency Furnace Details
The high-efficiency furnace review below includes details about each of the models on our list.
Lennox SLP98V Gas Furnace
Precise Comfort: Lennox Precise Comfort® technology lets the SLP98V keep the temperature within 0.5 degrees of your ideal temperature. Heat is even throughout your home, helping eliminate cold spots. SilentComfort™ technology combines heavy cabinet insulation, quieter burners, and no loud blasts of air during startup to preserve the peace and quiet of your home environment.
Comfort Innovations
Variable-Capacity Heating: The SLP98V continually adjusts heating output in increments as small as 1%, so you get the ultimate combination of exact temperatures and smart energy use.
Variable-Speed Airflow: By precisely adjusting the flow of air, the SLP98V can prevent temperature swings and help control humidity levels for a more comfortable environment.
ICOMFORT®-Enabled: The SLP98V works with the iComfort® S30 ultra smart thermostat to deliver precise temperatures and energy-efficient operation based on your family's routine.
AIRFLEX™ Technology: Your Lennox® Dealer can customize the SLP98V's airflow settings to best fit your lifestyle, home design, and geographic area.
Superior Efficiency: The SLP98V uses smart designs, high-quality materials, and innovations like Precise Comfort variable-capacity technology, so you enjoy years of trouble-free operation and consistent comfort.
With industry-leading efficiencies* of up to 98.7% AFUE**, the SLP98V can save you hundreds of dollars in utility costs every year.
Efficiency Innovations
Smart Control: When combined with an iComfort® S30 ultra smart thermostat, the Lennox SLP98V can adjust its gas valve to any level between 35% and 100%, so you don't waste energy by overheating your home.
Secondary Heat Exchanger: To maximize system efficiency, the SLP98V is designed with a secondary heat exchanger that captures waste heat.
Lennox ML296V Gas Furnace
Lennox's ML296V is a variable-speed gas furnace that heats the home evenly and efficiently.
Features
Efficiency: At every turn, the ML296V gas furnace is designed to be the most energy-efficient furnace in its class. A variable-speed fan keeps temperature swings to a bare minimum. Two-stage heating saves gas by adjusting the flame size based on demand.
Cost Effective: With a 96% efficiency rating, the ML296V gas furnace uses 2/3 less energy than competitive single-speed units, so you pay for perfectly heated air, not wasted energy.
Dual-Fuel Capable: For even more efficiency, pair the ML296V with a Lennox electric heat pump.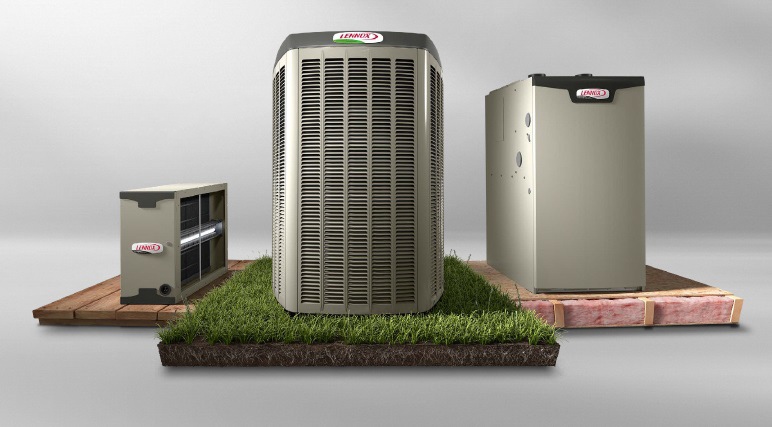 Carrier Infinity 98 59MN7
The Infinity® 98 furnace delivers precision comfort with Greenspeed™ intelligence. This is the most advanced Carrier® furnace ever made. Its unique design innovations achieve unprecedented efficiency and quiet.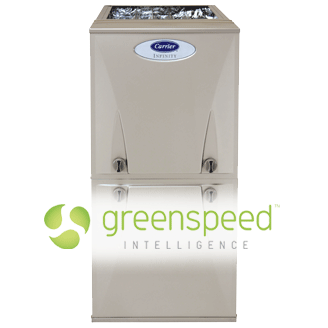 Greenspeed intelligence is created by pairing adaptable-speed technology with our Infinity control's intelligence. The unique, modulating gas valve of this unit, when managed by the Infinity control, allows it to literally adapt its output to the needs of the home. With tiny, 1% adjustments between 40 and 100% capacity, it gives the home only the amount of heating necessary.
This allows the furnace to operate longer at steadier, lower capacities, which ensures incredible energy efficiency and quiet operation with tighter temperature control than standard furnaces.
Variable-speed blower operation is part of the Greenspeed equation while also enhancing other system components. It's the best choice for boosting air conditioning system efficiency and improving summer dehumidification.
Carrier Performance 96 (59TP6)
A Higher Standard for Efficiency
The Performance 96 gas furnace is a two stage furnace with a variable-speed blower motor and will run in low stage up to 90% of the time. Longer low-stage run times give you better energy efficiency, better temperature control, and increased comfort. It also assures a quieter performance. Variable-speed blower operation also aids other system components and can help make your air conditioning system more efficient and improve summer dehumidification. Additionally, SmartEvap™ technology gives cooling condensation time to drain away to prevent rehumidification. SmartEvap can reduce humidity by up to 10%.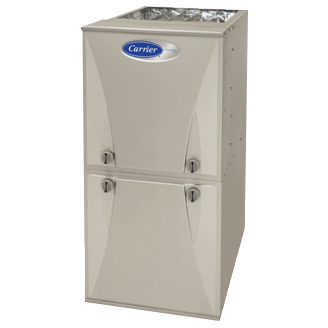 Features
Motor Performance: Non-communicating, variable-speed ECM operation
Media Cabinet: Optional accessory ordered separately
Efficiency: Up to 96.5% AFUE
Durability:Fully insulated, 20-gauge steel cabinet and doors
Limited Warranty:10-year parts, Lifetime heat exchanger
Choose Cozy Comfort Plus for the Best HVAC Products and Services in 2023
There is lots more information about gas furnaces available on our website. We invite you to contact us at (416) 780-9760 or visit our Toronto showroom. Alternatively, you can request a free in-home estimate via a simple form. All inquiries are welcome.
Heating and cooling are our specialties. Contact our sales team to get a quote for your new gas furnace today.