Black Friday Sales – Save on Our Great Deals

For Black Friday, Cozy Comfort Plus is offering amazing
deals
on our products and services.
Getting your home ready for four seasons means you may need to buy something new like a fireplace or furnace, or you need to protect your investment by maintaining it. Whatever you need for your home, these Black Friday prices (and special deals) are unbeatable!
The snow started early this year, so we're probably gearing up for a chilly winter. Besides bundling up in winter gear or planning a long-term vacation to a sunny destination, your best bet to stay warm is to make sure your home is equipped to keep you cozy.
Call our heating and cooling experts at (416) 780-9760 anytime. We're always here to answer your questions and make recommendations!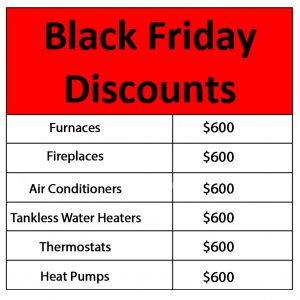 Fill out the form below for more details