Savour Summer Days with Warm & Sunny Savings!
The days of summer are counting down, but there is plenty to look forward to! Some of the most beautiful days of this summer are still ahead…be sure to make time for cozy nights around a table or fire spending time with family and friends.
Cozy Comfort Plus is featuring some amazing deals on tankless water heaters along with the opportunity to save up to $1,600 when you purchase eligible products for your home. Finally, you'll have the first opportunity to take advantage of our fall fireplace promotion!
Take Advantage of the Energy Savings Rebate Program When You Buy a Tankless Water Heater
As an eligible retailer of the Energy Savings Rebate Program, we're happy to pass on the savings to our customers. This rebate offers 25% off (up to $1,000) of energy efficient tankless water heaters. Our extensive selection of tankless water heaters (Rinnai, Bosch, and Navien) make it practical and affordable to find the best fit for your home…and it will continue to reduce your energy bills in the future!

Buy Multiple Products and Save a Bundle!
Giving our customers a great savings opportunity feels really good, but can you guess what feels even better? Giving them more than one chance to save! We know that our customers have different priorities (e.g. staying comfortable during the heat or getting their home ready for cooler fall temperatures), so we're providing up to $1,600 off bundled purchases.
Choose 3 (or more) eligible home comfort products to achieve maximum savings:
Tankless water heaters (up to $400 off)
Fireplaces (up to $400 off)
Furnaces (up to $400 off)
Air conditioners (up to $400 off)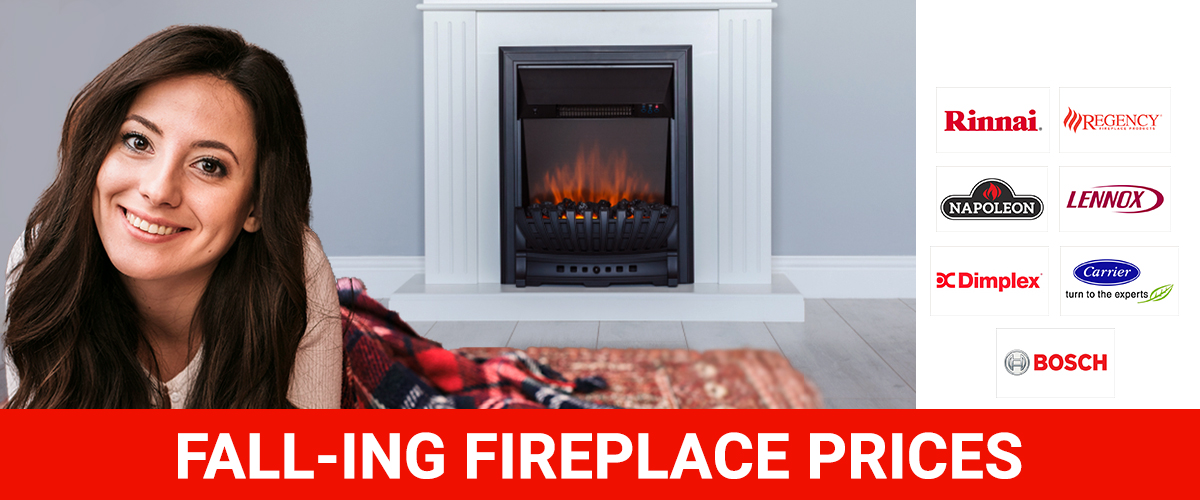 Fall-ing Fireplace Prices
Our fireplaces are part of the bundled savings deal mentioned above, but more promotions will be coming next month. With some of the lowest prices in the industry, don't delay finding the best one for your home because fireplaces are one of our top-selling products in the fall!
Making your home more inviting and energy efficient has many benefits. Our team is always happy to use their expertise to suggest affordable, environmentally responsible options to make your home cozier and more comfortable. Visit our showroom or call us at (416) 780-9760 today!