COZY Gas-Fired, Direct Vent Baseboard Heater is new and unique from any gas heater currently offered! With high efficiency and state-of-the-art styling, it is a perfect answer in the following heating applications and installs on any outside wall:
Retrofitting expensive electric baseboard heaters (approximately 75% less operating cost).
Single and multi-family dwellings, high-rise, commercial and manufactured housing applications.
Transitional entryways, under-window installations.
Residential add-ons and sun porch applications.
Cold-spots, or any application where space is at a premium!
COZY gas-fired baseboard technology was developed by three utility companies in Canada. They are eminently reliable and safe. Cozy Baseboard Heaters are approved for use in mobile home applications. Always consult with your local building code officials.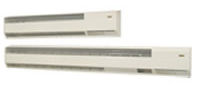 FREE In-Home Estimate