Ducted or ductless, it's a comfortable choice
Mr. Slim is best known as the perfect solution for dwellings without existing ductwork. The powerful simplicity
of an indoor and outdoor unit connected by two refrigerant lines that run through a small 10-cm opening in the
wall or ceiling is both effective and cost-efficient. Mitsubishi Electric also introduced the convenient option of
using a ducted indoor unit as well. By using compact ductwork connected to a ceiling-concealed indoor unit,
Mr. Slim can deliver its efficient temperature control in a truly discreet manner.
An innovative fan-blade design and grill shape in our outdoor unit makes the M-series system one of the
quietest on the market. Our systems are available in sizes from 6,000 to 48,000 BTU/h, offering one of the
widest selections in the industry. In fact, with our newest model, you can even install up to 8 indoor units to a
single outdoor unit, keeping exterior installation space to a minimum.
Complete home comfort comes in many degrees
In conventional heating and cooling systems, it's one thermostat and one temperature for everyone. But in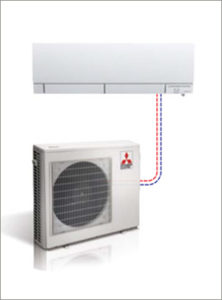 real life, one size does not fit all. With a Mr. Slim Multi-Split system, each room of your home can have its own
indoor unit – up to 8 units in total, and they can all be connected to a single outdoor condenser unit. That
means everyone can enjoy optimum comfort, no matter what room they're in. And you don't have to commit to installing a full system. As your needs change, additional indoor units are easy to add on to your existing Multi-Split Mr. Slim system.
If you're looking to heat or cool a single space like a room over a garage or a home extension, your best choice is a Mr. Slim Single-Split system. A Single-Split system connects a single dedicated outdoor unit to a single indoor unit. No matter what your needs are, there's a Mr. Slim solution that's right for you.
Low energy use is high satisfaction
At the heart of Mr. Slim lies Variable Compressor Speed Inverter (VCSi) technology
Conventional compressors work through on/off cycles only, in which the system starts with a surge and stays on at a fixed speed until no longer needed. This on/off cycle constantly uses maximum power (full load) and is an inefficient way to heat or cool your home. VCSi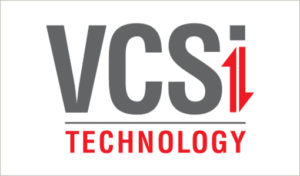 systems, on the other hand, operate efficiently by continually detecting changes in room temperature and readjusting the compressor speed to provide high-speed heating or cooling when needed.
By maintaining a consistent temperature using only the power required (part load), your energy costs are reduced.
Two ways VCSi technology saves energy
1- You probably know that it takes more energy to start a car or computer than it takes to run it. The same is true for conventional heating and cooling units. With Mr. Slim, however, the compressor starts at a minimum speed (soft start) and increases to match the required load. This prevents the compressor from drawing the extra amps needed during a start-up, as is the case with a conventional compressor that always runs at maximum speed.
2- Once the desired temperature of a room is reached, the compressor slows down to maintain a consistent temperature. By slightly adjusting speed instead of shutting off and turning on again, electrical loads are kept constant and minimal rather than peaking wastefully.
See how Mr. Slim compares
| | |
| --- | --- |
| VCSi systems | Conventional systems |
| VCSi compressor speeds up and slows down to maintain the conditioned space temperature. | Conventional compressor turns on and off to maintain the temperature. A compressor draws more amps at start-up than any other time. |
| Energy consumed by a VCSi compressor is directly related to the required amount of cooling or heating. |  (Capacity changes as needed.) Conventional compressor consumes the maximum amount of energy to produce the maximum amount of cooling or heating at all times. (Capacity does not change.) |
| VCSi compressor helps system reach its set point quicker by running at a higher RPM for a shorter period of time, then ramps down to maintain temperature. | Conventional compressor runs at same RPM for the longer period of time, then switches on and off to maintain temperature. |
|  Indoor temperature swing is minimized with the VCSi system because the indoor coil activates longer. As temperature changes slightly, compressor speed also adjusts slightly to compensate. | The conventional system kicks back on at full speed to compensate for small changes in temperature. |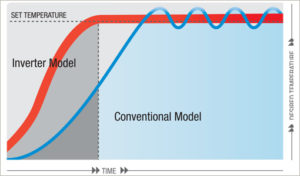 Conventional air conditioners take a long time to reach their set-point temperature, and when they finally do, the temperature fluctuates. However, VCSi closely controls the compressor and senses indoor cooling and heating needs, so the desired temperature is reached faster and remains consistent. This allows Mr. Slim to run more efficiently and reduces energy costs.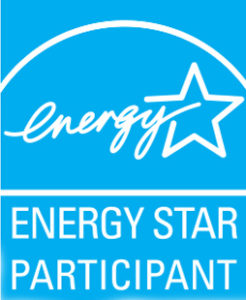 Mr. Slim – a real Energy Star
With a roster of 22 Energy Star-certified units, Mitsubishi Electric Canada remains an industry leader in highly efficient, eco-friendly heating and air conditioning technology. Enjoy year-round comfort and energy savings, all while leaving behind a smaller carbon footprint. It's just another way we're making changes for the better.