Hyper-heat models
E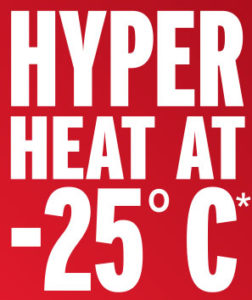 xperience a new level of year-round home comfort no matter where you live with the stylish MSZ-FE and MSZ-FH ductless heating and cooling units. Designed to complement your décor, these units are the most advanced and efficient models we've ever created. Plus, they're highly reliable, extremely quiet and remarkably energy efficient (up to 30.5 SEER – the highest SEER rating in the industry).
Low-ambient heating
Don't let the thought of facing another Canadian winter make your blood run cold. When the mercury plunges outside, the FE-series and FH-series rise to the task, providing excellent heating performance at outdoor temperatures as low as -25°C (-13°F).* We'll keep things warm when conventional systems fall short.
AMAZING PERFORMANCE EVEN AT THESE LOW TEMPERATURES
MODEL
MSZ-FE09NA
MSZ-FH09NA
MSZ-FE12NA
MSZ-FH12NA
MSZ-FH15NA
MSZ-FH18NA
HEATING CAPACITY
@ -15°C / 5°F
10,900 BTU/H
(100%)
13,600 BTU/H
(100%)
18,000 BTU/H
(100%)
20,300 BTU/H
(100%)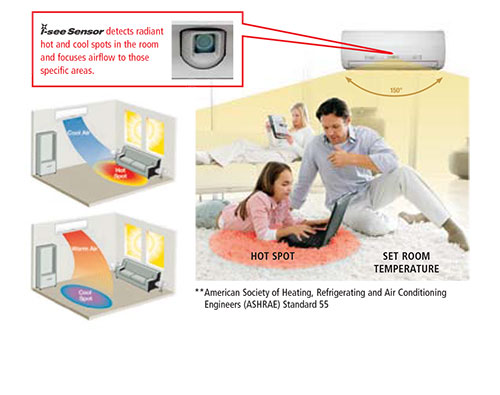 i-see Sensor – A new way of looking at total comfort
Room temperature is only one of the factors that can affect comfort as defined by the industry standard.** Equally important are radiant temperatures, air movement, and humidity. This exclusive technology measures radiant hot and cool spots in the room and focuses airflow to those specific areas. This prevents excessive heating or cooling and unnecessary operation, allowing you to enjoy total comfort and less energy waste – something conventional
systems were never designed to do.