Hyper-heat models
E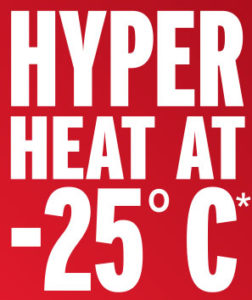 xperience a new level of year-round home comfort no matter where you live with the stylish MSZ-FE and MSZ-FH ductless heating and cooling units. Designed to complement your décor, these units are the most advanced and efficient models we've ever created. Plus, they're highly reliable, extremely quiet and remarkably energy efficient (up to 30.5 SEER – the highest SEER rating in the industry).
Low-ambient heating
Don't let the thought of facing another Canadian winter make your blood run cold. When the mercury plunges outside, the FE-series and FH-series rise to the task, providing excellent heating performance at outdoor temperatures as low as -25°C (-13°F).* We'll keep things warm when conventional systems fall short.
AMAZING PERFORMANCE EVEN AT THESE LOW TEMPERATURES
MODEL
MSZ-FE09NA
MSZ-FH09NA
MSZ-FE12NA
MSZ-FH12NA
MSZ-FH15NA
MSZ-FH18NA
HEATING CAPACITY
@ -15°C / 5°F
10,900 BTU/H
(100%)
13,600 BTU/H
(100%)
18,000 BTU/H
(100%)
20,300 BTU/H
(100%)
Experience customized comfort
Unlike other climate control systems that are designed to make the room comfortable, the new FH-Series from Mitsubishi Electric has a radically different approach. It's designed to make you comfortable. With innovative 3D thermal sensing technology and more precisely articulated air vents, the new FH-Series is the master of customized comfort.
3D i-see Sensor – The new look of comfort
Introducing another brilliant advancement from the leader in comfort innovation. The 3D i-see Sensor from Mitsubishi Electric scans the entire room and divides it into 752 zones, detecting exactly where you and your family are located based on your unique body temperature. The 3D i-see Sensor is so precise, it can even differentiate between people and pets! With this thermal data, it then directs the perfect amount of heating or cooling towards those who need it most. And when you leave the room, it automatically switches into the energy-saving mode to help save you money. When it comes to ensuring your family's comfort, we're always looking out for you. (Available in FH09/12/15/18NA models.)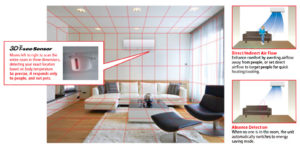 Nano-Platinum filtration system
Our Nano-Platinum air filtration system improves the air quality of your home and the health of your family. It effectively removes the four major air pollutants that are leading causes of illness – bacteria, viruses, allergens, and dust. As it improves the air quality of your home, it also deodorizes the air, so every breath you take smells clean and fresh.
Natural Flow & Double Vane
The most important part in creating "healthy" airflow is that the flow of air feels natural. Mitsubishi Electric's solution to this is Natural Flow, only possible thanks to our new, highly articulated vanes. This continuous gentle breeze provides enhanced comfort by avoiding the unpleasant feeling that results from constant, unnatural airflow. Additionally, Mitsubishi Electric's Double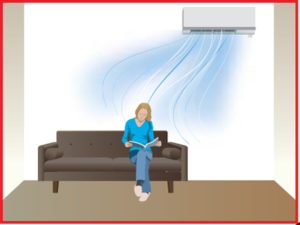 Vane technology separates the airflow in the left and right directions to deliver airflow not only across a wide area of the room but also simultaneously toward two people in different locations.